80 Years of Combined Experience and Results in Medical Malpractice Cases
If there's one area of law where it's absolutely critical that you have elite representation, that area is medical malpractice.
When medical system failures occur, whether they involve misdiagnosis, failure to treat, failure to test, failure to monitor, or lack of informed consent, among other major medical failures, the results can be devastating and even fatal. Misdiagnosis can lead to a lifetime of physical and emotional hardship.
What is the physical, emotional, and monetary cost of a misread X-ray or an emergency room error? What is the damage when prescriptions, medication, and other treatment errors occur, or medical negligence causes a patient to die?
Because lives are at stake, negligent doctors, hospitals and staff must be held to the highest standards and must be held accountable. It's their job to protect us all; it's what they're paid to do. Many of them do this everyday with excellence. Unfortunately, some do not.
As a victim, you have the legal right for just and fair compensation and the power to hold those who have caused harm accountable.
Our medical malpratice lawyers are based in Florda but we handle cases throughout the United States. Initial consultations are always free; call us today at 855-906-0334 or use our online contact form.
Play Video
Elite Medical Malpractice Lawyers
Medical malpractice negligence claims are among the most involved and complex types of cases that lawyers handle. Many law firms claim to be best suited as medical malpractice attorneys. Unfortunately, this isn't always true. It takes a certain level of compassion, dedication, experience, expertise and perseverance to successfully navigate medical malpractice cases and frankly, many lawyers miss the mark.
In this area of law, it is essential that you partner with a law firm that is immensely experienced in handling medical malpractice cases. At Ratzan Weissman & Boldt, our medical malpractice attorneys have the legal experience, command of technology and the understanding of medicine needed to uncover negligence, determine the root cause and clearly demonstrate your case to any audience. We have the resources to invest in your case with the attention it deserves.
We know this is a difficult time for you, and we are here to help. When you talk with us, you can expect straight answers and sound legal advice. It's what you deserve. We will spend as much time as necessary to determine the merit of your case. When the consultation is complete, you will have a comprehensive understanding of your options.
Our Miami medical malpractice attorneys have represented hundreds of victims in cases involving numerous types of injuries and medical conditions across the United States, and the results speak for themselves.
What is medical malpractice?
Medical malpractice occurs when a health care professional or provider neglects to provide appropriate treatment, fails to take an appropriate action, or gives substandard treatment or care that causes harm, injury or death to a patient.
Initial consultations are always free; call us today at 855-906-0334 or use our online contact form.
What are some common elements of a medical malpractice claim?
Four elements must be present for a valid medical malpractice claim to exist:
There was a "Doctor/Hospital-Patient Relationship" with a healthcare provider - simply put, this usually means that a doctor or medical professional agreed to treat you and that you agreed to be treated.

The doctor or medical professional was negligent, failing to adhere to the "standard of care".

The negligence caused an injury. In legal terms, the medical malpractice must be the "proximate cause" of the injury.

The injury (as a result of the negligence) caused losses, or "damages". These damages can be financial, physical and/or emotional.
What are common types of medical negligence that can result in medical malpractice claims?
misdiagnosis or failure to diagnose
unnecessary or incorrect surgery
premature discharge
failure to order appropriate tests or to act on results
not following up
prescribing the wrong dosage or the wrong medication
leaving things inside the patient's body after surgery (like surgical tools or sponges)
operating on the wrong part of the body
potentially fatal infections acquired in the hospital
Initial consultations are always free; call us today at 855-906-0334 or use our online contact form.
What kind of "damages" can the plaintiff recover in medical malpractice cases?
Compensatory damages may include economic damages, including lost earning capacity, life care expenses, and medical expenses. Usually, past and future losses are considered.


Compensatory damages may also include non-economic damages, which assesses the injury itself, psychological and physical harm, such as losing one's vision or legs, extreme pain, and emotional distress.


Punitive damages are only awarded if the defendant is found guilty of malicious or willful misconduct. Punitive damage is a form of punishment. It is compensation in addition to actual damages.
How to Choose the Best Medical Malpractice Lawyer
No matter who you consider working with, Ratzan Weissman & Boldt wants to help prepare you when deciding which medical malpractice attorney to partner with. We suggest speaking (or better yet, visiting in person) with more than one firm before making a decision. If it's a good fit, establishing rapport with your attorney should feel natural.
One area to consider here is a lawyer's track record. Actions speak louder than words, and getting a handle on a law firm's history when it comes to specifically medical malpractice cases is very important.
RWB's medical injury lawyers have recovered hundreds of millions of dollars in verdicts and settlements. In just the last 7 years, we have recovered over $190,000,000 in trial verdicts alone, many involving medical malpractice negligence claims.
Initial consultations are always free; call us today at 855-906-0334 or use our online contact form.
No Case is too Complex
Medical malpractice is a highly specialized and complex area of law. There are laws in place intended to protect doctors, hospitals and other healthcare providers, and laws that must be carefully adhered to when filing a medical malpractice lawsuit. Additionally, in certain states (Florida being one of them) all medical malpractice cases must be pre-vetted by an "expert", usually in the form of a highly-experienced and reputable doctor or nurse. As a case proceeds, multiple, highly-specialized medical experts will likely need to get involved. It's important to partner with a firm that not only has the capital to invest in these experts, but also has existing relationships and experience in this field.
Another area to consider when searching for a medical malpractice attorney is the size of the firm and the number of cases they handle in a given year. Bigger does not mean better, and more times than not, bigger can end up meaning worse. A firm with too many lawyers, numerous offices and dozens of cases will almost always underperform compared to a smaller, more specialized firm. RWB is meticulous in the cases that we handle, and this allows us to devote the time, energy and capital necessary to successfully prosecute and pursue the cases we take on.
Learn more about our firm and our specialized approach here.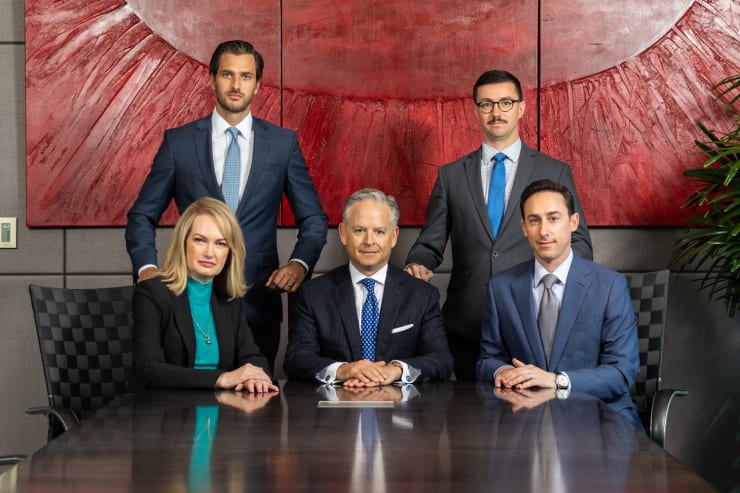 Ratzan Weissman & Boldt is a Florida-Based National Medical Malpractice Law Firm
Our Florida medical malpractice attorneys focus their careers on helping seriously injured victims and the families of patients killed due to medical negligence. Recognized for our commitment to solid medical malpractice litigation, we selectively handle the most complex and devastating medical malpractice claims in Florida and across the United States. No city or state is too far. We have handled medical malpractice matters in states like Rhode Island, Alabama, Arkansas, Texas, and California.
Our attorneys are devoted to improving the lives of our clients and the communities they live in. If your life or that of a loved one has been undone because of medical negligence, talk with us. If you have experienced the death of a loved one due to the negligence of a hospital, doctor, nurse or other health care provider, call us. We are here to help you. No case is too complex.
Ratzan Weissman & Boldt is a contingency-fee based practice. What this means is that there are no fees or costs to you unless we prevail through a favorable settlement or jury verdict and judgment. Because we don't bill by the hour and only get paid when you do, our priority is maximizing the results in your case.
Initial consultations are always free; call us today at 855-906-0334 or use our online contact form.
Learn More
Free Consultation
To consult with our professional team, please fill out the form and submit your request.